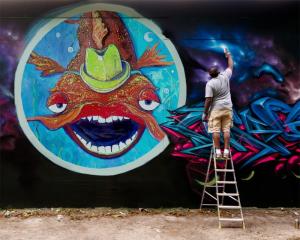 PRESS RELEASE:
FIREWORKS OF ART:
EXPLOSIVE EXHIBIT of 9 NEW ARTISTS
July 1-August 19, 2016
Hidden Springs Ale Works, 1631 N. Franklin St., Tampa,

Tampa, Florida: Local artists Tim Gibbons of Funky As A Monkey Art Studio and Teri Navajo of the Creative Life Project have again joined forces to exhibit a gathering of nine emerging local artists in all varieties of technique, media and imagination. The opening reception is July 1, 7pm, and is FREE and open to the public. The exhibit installation, the Friday prior to July 4th, is appropriately named "FIREWORKS OF ART". The art of the nine artists will continue through Friday, August 19, 2016. Several of the artists have not shown their work previously and we celebrate their entry into Hidden Springs ART SPLASH Gallery. The artist's work in paintings, drawings, photography, printmaking and collage art represent the enormous variety in all their talents. Their art represents their artistic evolution and ...